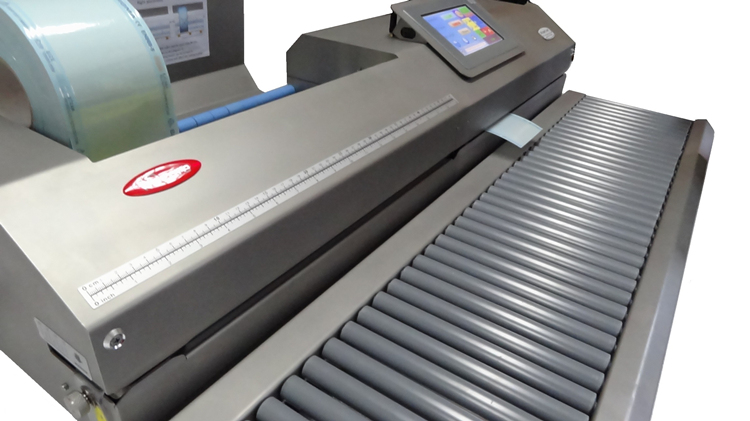 Product Information:
Main features:
7" large touch screen display, graphical control interface, automatic micro-computer temperature control, easy operation, continuous cutting and sealing, English/Chinese printing and high reliability.Parameters can be set as per requirements, such as the cutting length, cutting quantity, sealing temperature, expiry date, autoclave No., sterilization batch code, etc. The machine combines the computer control with its automatic all-in-one (cutting-sealing-printing) function. It is a stylish, compact and light-weighted machine.The machine complies with WS310.2-2016 Central Sterile Supply Department (CSSD) Part Ⅱ: Standard for Operating Procedures of Cleaning, Disinfection and Sterilization, GB/T19633.2-2015/ ISO 11607-2-2006, EN868-5-2009 and YY/T 0698-2009.
It has passed the ISO9001 certification and CE certification including 2006/42/EC (Machinery Command), 2006/95/EC (Electric Command) and 2004/108/EC (EMC Directive).
This machine is not listed in Class I, II and III medical instruments regulated by Regulation on the Supervision and Administration of Medical Devices (Order of the State Council of the People's Republic of China No. 276), so it will not be managed as a medical instrument.
Highlight:
*MD8600: The cutting and sealing are completed continuously, and it can also be cut and sealed individually.

* MD8600-A: Cutting, sealing, and printing (single line) can be completed continuously, and it can also be single-cut, single-sealed, or sealed print;

* MD8600-B: Cutting, sealing, and printing (double line) can be completed continuously, and it can also be single-cut, single-sealed, or sealed print;

Technical Parameter:
* Control system: 7" color LCD capacitive touch screen
* Cutting width: ≤400mm(Several reels can be cut simultaneously)
* Cutting length: ≥50mm
* Cutting speed: 20±0.5m/min
* Cutting accuracy: ≤ 1 %
* Sealing speed: 10±0.5 m/min
* Sealing margin: 0~35 mm adjustable
* Sealing width: 12 mm
* Working temperature: 60~220℃ adjustable
* Sealing pressure: 90±20N
* Temperature control error: ≤1%
* AC power: 220V±10% 50Hz
* Power: 600W
* Max current: 3.2A
*Fuse: 5A×2
* Overall Dimensions: 1040×280×230(L×W×H)mm (excluding the guide plate)
* Weight: 38 Kg
* Storage Temperature: 10~40℃
Main Picture: